Roy E. Smoker Honored as Biography of the Year and as a Professional of the Year for Two Years in Years by Strathmore's Who Who Who Worldwide Publication
|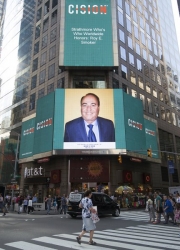 Huntington Beach, CA, February 10, 2018 – ( PR.com ) – Roy E. Smoker of Huntington Beach, California has been honored as the Biography of the Year for 2018 and as a Professional of the Year for two consecutive years, 2017 and 2018, by Strathmore's Who Who Who Worldwide Edition for his Highlight contributions and achievements for over 46 years in the field of defense.
About Roy E. Smoker
Dr. Smoker is the CAED of MCR, which is a defense contractor providing strategy and solution services to customers including the US Defense, Civil and National Security Departments and Agencies, leading companies in the aerospace and defense industrial base and related organizations in the international arena He liaises and interacts with defense contractors regarding military budgets. Dr. Smoker is a Cost Analyst for new systems and new technology.
Born on December 7, 1943 in Richmond, Indiana, Dr. Smoker obtained a Ph.D. in Economics and Public Finance from the University of Missouri, Columbia in 1984. He retired from the US Air Force after serving 30 years. He was recently recognized on the Reuters Billboard in Times Square in New York City. In his spare time he enjoys tennis.
About Strathmore's Who's Who Who
Strathmore's Who Who Who highlights the professional lives of individuals from every significant field or industry including business, medicine, law, education, art, government and entertainment. Strathmore's Who Who Who is is online and hard cover publication where we provide our members' current and pertinent business information. It is also a biographical information source for thousands of researchers, journalists, librarians and executive search firms throughout the world. Our goal is to ensure that our members receive all of the networking, exposure and recognition capabilities to potentially increase their business.